The eyes are as unique as fingerprints, and vision correction treatments that work well for some may not be the best option for others. That's why Bliss Eye Associates offers a variety of advanced treatments that offer patients many of the same benefits as laser vision correction. The Implantable Contact Lens (ICLs), also known as phakic Intraocular lens, can be a very effective alternative for patients who have severe cases of myopia (nearsightedness) and for those who may not be good candidates for LASIK. This implantable contact lens can make it possible for patients to reduce and even eliminate the need for glasses and traditional contacts. The ICL does not alter the shape of the cornea, and this procedure is the only refractive surgery option that is reversible.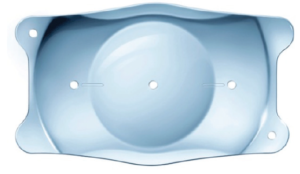 Patients suffering from moderate to extreme nearsightedness and those who have corneas that are too thin for LASIK may be eligible for this procedure. The ICL may also benefit patients who have large pupils or a history of Dry Eye Syndrome. One of our experienced eye doctors here at Bliss Eye Associates can meet with you for an initial consultation and eye evaluation to determine if ICL is right for your needs.
If you would like more information on the ICL, or if you would like to schedule your initial consultation, please contact us today.