Lens implants, also referred to as intraocular lenses or IOLs, are placed in the eye during cataract surgery to restore and even improve focus following the procedure. They may be used to help reduce the need for glasses in patients with pre-existing near-sightedness, far-sightedness, or astigmatism. Advanced multifocal implants can be used to allow some patients to see at both distance and near with minimal dependence on bifocals or reading glasses.
Our Ophthalmic Surgeons are lens implant specialists offering a full range of options to our patients with truly customized treatments. They will evaluate your individual needs during a consultation. After extensive computerized analysis of your eyes' medical and focusing characteristics they will talk with you about the many lens implant options available. A personalized treatment plan will be designed to help achieve the best quality of vision tailored to your lifestyle. All of the lens options below may be combined with the LenSx® Laser Assisted Cataract Surgery.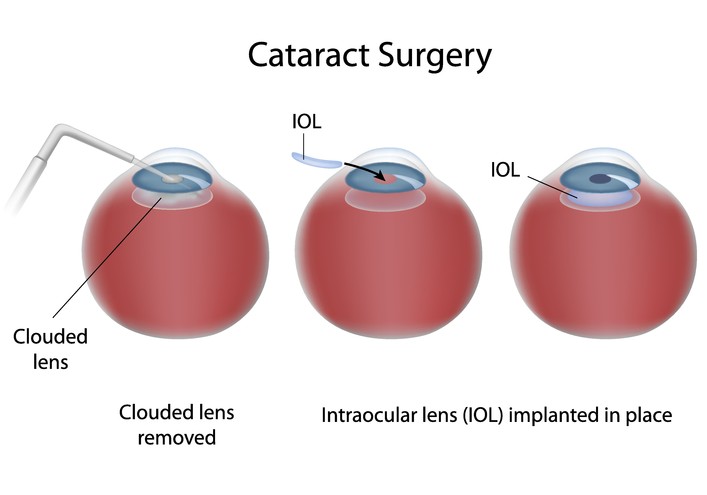 1. ELIMINATE THE NEED FOR GLASSES with our
Multifocal Implants
---
Designed to achieve both distance and near vision in the same eye, reducing dependence on bifocals or reading glasses. Patients who are candidates for this option may be able to perform a number of normal daily activities without the need for spectacles. Our doctors have extensive expertise in these technologies.
2. IMPROVE YOUR QUALITY OF VISION AND DECREASE DEPENDENCE ON GLASSES with our
Toric Astigmatism Addressing Implants
---
May be used to improve the quality of vision in eyes with significant degrees of pre-existing astigmatism, nearsightedness, or farsightedness.
3. Clear up your vision, but keep your reading glasses with our standard 
Monofocal Lens Implants
---
Modern, soft, foldable, UV filtering devices can be placed through self-sealing micro incisions to obtain excellent quality vision at distance or near in eyes with minimal preoperative astigmatism.
Being able to offer our patients a variety of cataract and intraocular lens implant options is one of the things that makes Bliss Eye Associates one of the top cataract practices in Northern California. We constantly strive to provide the best individualized vision solution to each of our patients.
Please contact our practice for more information on intraocular lenses or to schedule your consultation.
*lens choice explanations are written to highlight the goals and differences between the above lens technologies and do not guarantee a refractive outcome.