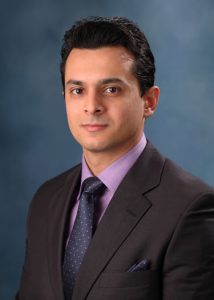 Dr. Matin Khoshnevis has treated thousands of patients for eye disease and has performed thousands of ophthalmic surgeries. Dr. Matin Khoshnevis grew up in Orange County. He attended the University of California, Irvine where he first attained his Bachelor of Science with honors in Biological Sciences, then completed Medical School. During Medical School, he conducted research with the world-renowned neuro-ophthalmologist Alfredo A. Sadun at the University of California, Los Angeles (UCLA). He was awarded the United Mitochondrial Disease Foundation student fellowship award for his work on Leber's Hereditary Optic Neuropathy, a rare genetic eye disease.
View Dr. Matin Khoshnevis Vitae
This highly prestigious award is given to only one person in the country per year. Dr. Khoshnevis graduated Medical School with a distinguished diploma. He was awarded the Meyskens Clinical Research award which is given to one graduating senior exhibiting the highest potential for a career in clinical research, publication, innovation, and academic standing. He subsequently completed a preliminary intern year in Internal Medicine at UCLA Harbor. During his intern year, he patented a new type of ocular prosthesis with a more authentic eye motility and pupil mimicry, leading to founding his company, 3D-Optix. Dr. Khoshnevis completed his Ophthalmology residency at Temple University, continuing to be prolific authoring papers and textbook chapters.
His areas of expertise include state-of-the-art cataract surgery, laser vision correction surgery, as well as the medical and surgical management of glaucoma. Dr. Khoshnevis specializes in multifocal lens implantation and astigmatism correction. He has studied surgical advances extensively throughout the world and strives to offer his patients the very finest technology available.
The practice is in the extremely capable hands of Dr. Matin Khoshnevis. This guy is a Rock Star! Personable, kind, and very very capable. He did my second cataract surgery, and took me from a -20 to 20/20 vision! The staff is terrific and any fears, problems, or questions can be resolved easily. When it comes to surgery, you want it done right-the first time. I recommend this eye surgeon to anyone with any problems. Don't put off seeing the world with clear clarity and normal vision. Actual Patient
Dr. Khoshnevis is very informative and has helped my mother see again. She went from legally blind to being able to pass the DMV eye test without glasses. I can not thank him and everyone at Bliss Eye Associates enough.

Actual Patient