An important part of LASIK treatment is the preliminary "mapping" of your eyes to determine the most precise measurements for vision correction. Here at Bliss Eye Associates, we utilize a renowned method, known as CustomVue™ WaveScan® technology, to obtain the most accurate view of a patient's vision imperfections. This advanced technology allows us to very carefully measure the areas that will be corrected with the LASIK laser.
How Does CustomVue™ WaveScan® Technology Work?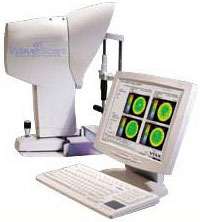 Every individual's vision is completely unique, and this extends to the level of imperfections present in that person's vision – whether those imperfections are related to nearsightedness, farsightedness, or astigmatism. The digital technology used in CustomVue™ WaveScan® applies a computer controlled scanner to analyze the focusing characteristics of each eye. It then collects this data to address the major and minor aberrations inherent in each eye.
The CustomVue™ WaveScan® mapping system is known to measure vision imperfections 25 times more precisely than previous methods. With this level of accuracy, the LASIK procedure is considered more customized, and can help increase the potential for the best possible vision.
Our doctors provide the CustomVue™ WaveScan® and technologies like VisX™ laser and Intralase® to help patients achieve maximized results.
If you have questions about the LASIK treatment process, or if you would like to schedule a consultation with one of our experienced eye doctors, please contact Bliss Eye Associates today.