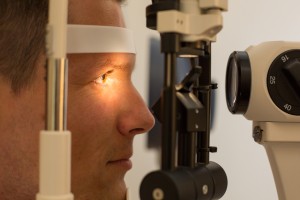 Have you been told that you need cataract surgery? Have you had trouble reading words on a page or sign, or been having problems seeing while driving at night? If so, you may well have a cataract. If you are experiencing these vision problems your optometrist may tell you that you need to have cataract surgery. At Bliss Eye Associates we are a leader in laser cataract surgery in Sacramento.
We have been in private practice since 1986 and have performed thousands of ophthalmic surgeries. Our surgeries include cataract surgery, laser vision correction surgery and surgical management of glaucoma. We also specialize in multifocal lens implantation and astigmatism correction. We have been a leader in Sacramento's medical community for many years. You will not be able to find a more experienced or more respected doctor to perform your laser cataract surgery in Sacramento. On staff at Bliss Eye Associates there are also several optometrists to meet your eye care needs as well. Dr. Khoshnevis has worked to put together an expert staff of eye care professionals at Bliss Eye Associates, including an experienced corneal transplant surgeon. Our practice's goal is to help all patients have the very best of eye care, regardless of their needs. Whether a patient needs a comprehensive eye exam or cataract surgery or anything in between, Bliss Eye Associates wants to be the practice you think of and trust to take care of your eyes.
We are experts in LensSx Laser Cataract Surgery. This surgery is one of the most significant eye surgery advancements in the last 50 years. This laser technique allows for cataract removal using the highest degree of accuracy. We were one of the first providers in the Sacramento area to offer this option to our patients. During laser cataract surgery the damaged lens is removed through a small incision, and a new manmade lens is inserted. This new lens is called an intraocular lens. These lenses may reduce the need for glasses in patients with pre-existing visual conditions such as nearsightedness, farsightedness, or astigmatism. Bi-focal intraocular lenses are even available. We will work with you to determine an individualized treatment plan for your cataract surgery. If you are in need of laser cataract surgery in Sacramento, or any type of eye care for that matter, make an appointment to visit us at Bliss Eye Associates.