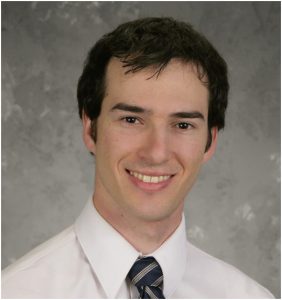 Richard L. Rabin, M.D., an ophthalmologist specializing in LASIK, glaucoma, and cataract surgery joined Bliss Eye Associates September 1, 2018.
Dr. Rabin, a native Californian, comes to us after completing a fellowship with world renowned glaucoma and cataract surgeon, Dr. Douglas Rhee. Dr. Rabin specializes in the latest medical and surgical glaucoma care including minimally invasive glaucoma surgery (MIGS) as well as the latest cataract techniques and premium lens technology including multifocal lens implantation, laser vision correction, and astigmatism correction.
Dr. Rabin is a Diplomat of the American Board of Ophthalmology and a Fellow of the American Academy of Ophthalmology. Dr. Rabin completed the Accelerated Physician Scientist program graduating magna cum laude from Rensselaer Polytechnic Institute and completed medical school at Albany Medical College. This combined undergraduate-medical school program is highly selective and emphasizes translational medicine, bringing research from the lab bench to the patient's bedside. Dr. Rabin studied retinal stem cells and designed an in-vitro model of macular degeneration.
Dr. Rabin completed his internship at St. Mary's Medical Center in San Francisco. He completed his ophthalmology residency at Nassau University Medical Center in Long Island, New York, where he treated a wide variety of complex eye diseases and was selected to be chief resident. Thanks to his well-rounded training, Dr. Rabin also manages numerous other ocular conditions including diabetes, macular degeneration, dry eye, inflammatory conditions of the eye, optic nerve and visual field disorders.
He went on to complete a fellowship in glaucoma and complex cataract surgery at the prestigious Case Western Reserve University in Cleveland, Ohio.
Dr. Rabin's research has been presented at many scientific meetings, and he has published numerous articles expanding the field of ophthalmology. These include current treatments in glaucoma, drug-induced eye pathology, neuro-ophthalmology, and macular degeneration.
Dr. Rabin's most recent publication, "Co-management of cataract and glaucoma in the era of minimally invasive glaucoma surgery" was published in January 2018 in Current Opinion in Ophthalmology.
Dr. Rabin is married, and his wife, Chloe, is a nurse. In his free time, he enjoys spending time with his family, playing tennis, skiing, ballroom dancing, traveling, and working on cars.