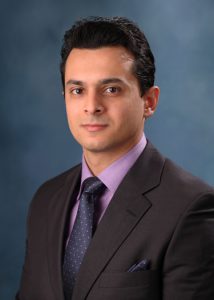 Dr. Matin Khoshnevis grew up in Orange County. He attended the University of California, Irvine where he first attained his Bachelor of Science with honors in Biological Sciences, then completed Medical School. During Medical School, he conducted research with the world-renowned neuro-ophthalmologist Alfredo A. Sadun at the University of California, Los Angeles (UCLA). He was awarded the United Mitochondrial Disease Foundation student fellowship award for his work on Leber's Hereditary Optic Neuropathy, a rare genetic eye disease. This highly prestigious award is given to only one person in the country per year.

Dr. Khoshnevis graduated Medical School with a distinguished diploma. He was awarded the Meyskens Clinical Research award which is given to one graduating senior exhibiting the highest potential for a career in clinical research, publication, innovation, and academic standing. He subsequently completed a preliminary intern year in Internal Medicine at UCLA Harbor. During his intern year, he patented a new type of ocular prosthesis with a more authentic eye motility and pupil mimicry, leading to founding his company, 3D-Optix. Dr. Khoshnevis completed his Ophthalmology residency at Temple University, continuing to be prolific authoring papers and textbook chapters.

Dr. Khoshnevis is committed to you and your vision. His expertise includes cataract surgery, LASIK/PRK, and medical/surgical glaucoma. His passion for helping others fosters his continued pursuit of research and innovation to improve patient outcomes. When he is not practicing Ophthalmology, Dr. Khoshnevis enjoys spending time with his wife, traveling, cooking, and photography.